Tokenomics Consultancy
For Founders & VC's
We are an EU-based tokenomics consulting firm working with Founders and VC's in the fields of DeFi, GameFi, and Web3. Dedicated to building and launching sustainable tokenized ventures we've created a 
methodology
 that works. Leveraging the latest
innovations
, adopting a data-driven approach and with best practices from the industry and our clients.
We understand the unique challenges and opportunities of the token economy and are committed to delivering tailored solutions that enable our clients to achieve their strategic goals and stay ahead of the competition. Whether you're a startup or an established business, we have the expertise and experience to help you navigate the complex world of tokenomics and succeed in today's dynamic digital landscape.
$185M
+
MARKET CAP COMBINED
World's first Rate2Earn Platform. Leveraging #GameFi and #SocialFi to create a transparent, fair, and open review economy that benefits both users and businesses.
Since crypto assets are the center of the decentralized market, they should be the leading form of payment between parties in executing jobs/tasks in the crypto market.
The first certified Green blockchain. Offering a low-energy blockchain with its own GNC token fully supported by zero carbon validators for Green and Good Projects!
Blockchain-based platform. Investors from all walks of life can harness the collective wisdom to their investment strategies, realizing the full potential of decentralized finance.
The $LCX utility token connects the LCX ecosystem. The $LCX token is currently trading around a $46M Market Cap at the time of writing.
BLOK Capital is developing an Investment Management protocol for blockchain assets, offering transparency and control to Investors while maintaining full custodial ownership of their crypto assets. This will remove middlemen between Investors and Wealth Managers.
Tokenised Physical Goods. Interoperable with multiple blockchains/DLTs, Galileo is unlocking a new world of NFT possibilities.
Creating a resilient world together by making climate risks investable. DRT is a fully automated mechanism build on distributed ledger technology for buyers and sellers to transfer risk peer-to-peer.
Script TV is a watch to earn television platform. Users, through watching tv and completing tasks / achievements within the platform, can earn rewards. Script has a built in wallet, marketplace, and platform for users to engage with 24/7/365 days a year.
Web3 oriented streaming platform where everyone is a community producer: watch, fund, and influence TV shows, movies, and pilots with your favorite studios and talent. Content that's peer-reviewed and selected by you.
Pikamoon is building an innovation new Play-To-Earn gaming experience that is attracting significant attention. The company has successfully generated $3M in token sales, based on our robust tokenomics.
Welcome to the first-ever one-stop to reap amazing benefits from blockchain, NFTs, cryptocurrencies and fine wines
Building the sustainable token economy
Our firm has extensive knowledge in token strategy, ecosystem design, token modeling, economic incentives and value mechanics. Having successfully executed dozens of token based projects we understand the core principles of designing tokenized ventures for the token economy.
The rules, mechanisms, and processes that determine how tokens are distributed among participants and how they are allocated over time. This includes considerations such as token issuance, token sale or fundraising events, token rewards for specific activities or contributions, token vesting schedules, and any token burn or token buyback mechanisms. 
Tokens in blockchain technology serve crucial purposes such as governance, security, and utility. The token design aims to facilitate effective governance, enhance security, and provide efficient utility within the blockchain ecosystem. We aim to ensure fairness, incentivize participation, and align the interests of stakeholders within the ecosystem.
Token incentives are mechanisms that motivate and reward participants in a tokenized ecosystem. They can include financial rewards, governance rights, access to services, network effects, and alignment of interests. These incentives encourage active participation and contribute to the ecosystem's growth and sustainability.
In the rapidly evolving web3 landscape, understanding blockchain project tokenomics is vital. Unfortunately, many projects struggle to effectively communicate their tokenomics to outsiders. A clear presentation of a project's tokenomics helps potential investors make informed decisions about whether to invest in the project.
Decision-making power within the network is a crucial aspect of governance. Understanding who holds this power is essential for effective management and operation of the network.
This involves making key considerations such as total supply, initial supply, inflationary or deflationary nature, market cap, listing prices, diluted value, and circulating supply. These factors play a vital role in understanding the token's distribution, market dynamics, and potential value.
Our experienced firm, boasting 80+ successful tokenomics projects, specializes in crafting bespoke token strategies and battle tested token models for your project. We tailor tokenomic strategies across DeFi, GameFi, Web3, and more, we prioritize long-term sustainability while delivering investor- and whitepaper-ready tokenomics.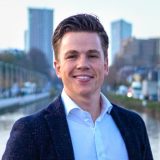 Vincent is a seasoned professional in the Blockchain and Crypto industry since 2015 when blockchains started offering support for dApps (Smart Contracts). He's currently active as non-executive advisor in several tokenized ventures and participates actively in some DAO's as well.
By establishing Chainforce, Vincent's mission is to launch sustainable tokenized ventures in the token economy. And thereby driving the adoption of blockchain technology to create a future that is more transparent, efficient, and equitable.
Get professional help on tokenomics
Collaborate with industry experts and leverage benchmarked data to establish robust and sustainable tokenomics that instill confidence in your investors and community. With our assistance, you can create a strategic approach to tokenomics that aligns with your business objectives and delivers long-term value. By relying on our expertise and data-driven insights, you can make informed decisions that drive growth and profitability in the dynamic and rapidly evolving world of DeFi, GameFi, and Web3.